Welcome to fully automated tissue fabrication challenge!
TISSUE FACTORY
Establishment of tissue factory using cell sheet engineering


To save patients around the world, we aim to repair the functional losses of tissue or organ by using cell sheet engineering. One approach of this project is to develop a system "tissue factory" which can fully automate cells sheet fabrication, and to supply high-quality, reliable cell sheets in large quantities.
We will design a novel automated cell processing system for manufacturing cell sheets by applying the isolator system, which enables process versatility by the installation of decontamination apparatus.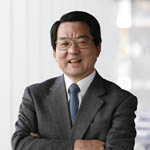 Core Researcher
Prof. Teruo Okano, Ph.D

Schematic diagram of our destination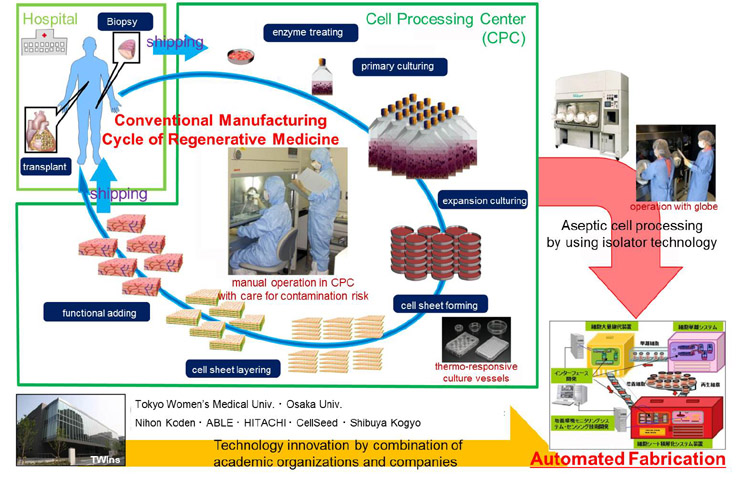 NEWS
2012.3 All of the process modules was prepared
We had designed process modules of cell isolation / primary culture and cell expansion, and made prototypes. Then, all the process modules essential for manufacturing of implants from biopsied tissue fragment was prepared.
In fy 2013 or fy 2014, pre-clinical study using the automated system would be carried out.



2011.4 Prototype of cell sheet layering system was assembled in TWIns
In fy 2010, we had designed a cell sheet layering system containing cell sheet forming process, layering process, and functional adding process. And the production of a prototype, which have isolator function, for establishing of aseptic techniques was carried out.



The cell sheet layering system is adopted a modular, and it consists of central transfer module, cell seeding & medium changing module, cell sheet layering module, CO2 incubator module, and material loading module (four gloves isolator). The exterior of every unit is an independent isolator, and decontamination of the interior (by H2O2 equipment) is available.

"TISSUE FACTORY"