Medicine and engineering joining forces to treat patients around the world
Recently, regenerative medicine is widely regarded as an effective method of achieving radical treatments that overcome the limits of treatments, and has been attracting worldwide attention. To establish this visionary treatment method, fundamental studies using embryonic stem (ES) and induced pluripotent stem (iPS) cells have been carried out actively, and tissue engineering therapies are also becoming increasingly important for aim at clinical application.
Our team has succeeded in developing a novel treatment method in regenerative medicine using a unique tissue engineering approach known as cell sheet engineering. Cell sheet engineering is already being used in clinical treatment of the cornea, heart, and esophagus. Our currently achievements, treating diseases which could not be cured completely with conventional methods, have drawn global attention and hope for future developments.
We are attempting to build automated fabrication systems to produce large quantities of cell sheets and thick tissues or organs by combining biomedical and engineering technologies. We hope to link these systems based on the production procedure and establish an infrastructure for the industrialization of regenerative medicine.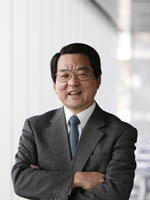 Core Researcher
Teruo Okano, Ph.D
Director and Professor,
Institute of Advanced Biomedical Engineering and Science,
Tokyo Women's Medical University


Establishing tissue and organ factories using cell sheet engineering
One approach of this project is to develop a system "tissue factory" which can fully automate cells sheet fabrication, and to supply high-quality, reliable cell sheets in large quantities. At the same time, to overcome problems faced in medical transplants due to a shortage of organs, we are also involved in the development of vascular network creation in the aim of building the basal technologies for "organ factories" for fabricating thick tissues as regenerated organs. By embodying the first tissue and organ factory in the world, we hope to contribute to the international community.
NEWS
2014/03/31
Project period has been completed.


2013/04/08
Prime Minister Shinzo Abe visited the TWIns on March 27.





2013/02/23
Paper on a vascularization method of layered cell sheets has been published in Scientific Reports.
Sakaguchi K, Shimizu T, Horaguchi S, Sekine H,Yamato M, Umezu M, Okano T. " In Vitro Engineering of Vascularized Tissue Surrogates." Scientific Reports 3, Article number: 1316, 2013.

2013/01/31
Paper on a vascularization method of layered cell sheets has been published in Nature Communications.
Sekine H, Shimizu T, Sakaguchi K, Dobashi Y, Wada M,Yamato M, Kobayashi E, Umezu M, Okano T. "In vitro fabrication of functional three-dimensional tissues with perfusable blood vessels." Nature Communications 4, Article number: 1399, 2013.

2012/04/09
Paper on the manipulation methods of layered cell sheets has been published in Nature Protocols.
Haraguchi Y, Shimizu T, Sasagawa T, Sekine H, Sakaguchi K, Kikuchi T, Sekine W, Sekiya S,Yamato M, Umezu M, Okano T. "Fabrication of functional three-dimensional tissues by stacking cell sheets in vitro." Nature Protocols 7, 850–858 (2012).

2012/03/29
All of the process modules has been prepared. (T-Factory)


2011/09/06
A pamphlet (PDF file) describing our works can be downloaded at here.



3.5 MB

2011/06/27
"O-Factory" page started.

2011/05/06
"Cell Sheet Engineering" page and "T-Factory" page started.

2011/05/02
English website started! The contents may be filled soon.